Youth Art League
Our premier youth art program—Youth Art league—exists to provide young people with an opportunity to express themselves creatively and develop their artistic abilities. YAL lessons are held on the second Saturday* of each month. Lessons are designed to be both informative and enjoyable for all of our students, who typically leave each session with a finished work of art. Past lessons have included acrylic pour, paper art, drawing, pastels, watercolor, sculpting with paper, and painting with 3-D glasses, just to name a few. All materials are provided by the Gateway Art Gallery, supported by a grant from Clay Electric Co-Op.
YAL membership entitles each student to enter our annual Youth Art Show & Competition in March, as well as various other events and exhibitions at the Gallery throughout the year, so hang onto those art pieces and be ready to enter when the call goes out! YAL membership also includes an end-of-year pizza party in November.
YAL details:
YAL annual membership is $15 per student
Open to youth between the ages of 7 and 18
Lessons are held on the 2nd Saturday (Senior YAL, ages 13-18) and 4th Saturday (Junior YAL, ages 7-12) of each month (*excl. December.) Please note that November's session is a joint class on the 2nd Saturday for both groups, as it features the end-of-year pizza party celebration. There is no session on the 4th Saturday in November.
Class is held from 10:00 AM – 12:00 PM (Sometimes class ends early, especially the Junior YAL class. Parents may wish to arrive a little early for pick-up.
A parent or guardian must fill out a registration form for the current year and sign a photography waiver.
How to register:
Sign up in person by coming to the next YAL class at least 15 minutes early to give our Instructors time to get your child registered/renewed.
You may also register online via Paypal or call the Gallery to register over the phone (you will need to sign forms at next check-in.)
Once registered, simply check-in on class day. Annual renewal occurs each January.

For more information, call (386)752-5229 or email info@artleagueofnorthflorida.com. Keep an eye on our calendar for upcoming classes and events.

Young DaVinci Summer Art Camp
For three days each Summer, typically in July, volunteer artists at the Gateway Art Gallery host and teach a free 2-hour-long art camp for children ages 7 to 12. This program is intended to supplement our monthly youth art classes, while giving children something to look forward to and do during their Summer break. These classes offer more in-depth lessons and typically encompass one medium each day. Students explore new media in these lessons and come away with several pieces of art to take home. There is no cost for this art camp, but pre-registration is required and space is limited to 20 students each day.
To register for this fun program, download the registration form and return it to the Gallery before the closing date.
2024 dates TBA
If you or your business would like to sponsor this event, please get in touch!

Jingle Jangle Workshop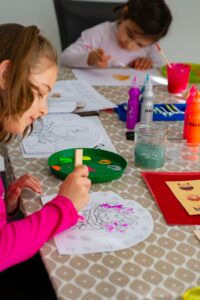 Each December, the Gallery hosts a free holiday art workshop for young children to experience art and express their creativity! Our annual Jingle Jangle kids' workshop is designed for children ages 6-10 who love to create and explore different art forms. The lessons give children the opportunity to dive into various media including painting, drawing, paper crafts, and more. This year, the kids will be making Santa cups.
Seating is limited to 12 children, ensuring personalized attention and support from our experienced instructors. Registration closes on Friday, December 8th at 6 pm.
If you or your business would like to sponsor this event, please get in touch!
2023 date: December 9th from 10 am-12 pm
Registration deadline: Friday, December 8th @ 6 pm
Call the Gallery to register: 386-752-5229
YAL Kids: Literacy & Art Program
Join us on a captivating adventure where art and literacy blend for children in 1st through 4th grades. This free program, initially funded by a grant from Altrusa, inspires young minds, fostering a love for reading and writing through creative exploration and features:
Engaging literacy activities
Exciting art projects
Small class sizes for personal attention
Inclusive, supportive environment
Creative challenges for growth
Watch your child's literacy skills soar as words come to life through art! Apply for the 2024 program here. (coming soon.) Registration is required.
Policies & Guidelines for ALL Youth Art Activities
We do not provide supervision of children before or after classes or camps. We ask that you arrive promptly to all programs and do not leave children unattended.
No supervised aftercare is offered.
Snacks and beverages are sometimes provided in class, depending on the length of the event. Water is always available.
If your child has a food allergy or other health consideration, please make the instructors aware of it PRIOR to class.
We reserve the right to substitute instructors when necessary.
We design class curriculum for specific age ranges. These age limits must be respected unless prior arrangements have been made.
We reserve the right to withdraw a child for inappropriate behavior. No refunds will be given for withdrawals.
YAL participants are required to wear closed-toe shoes and it is recommended they dress-for-mess. The Gallery will not replace stained clothing or shoes.
YAL participant registrations must include thorough and accurate information to ensure the safety of students, including emergency contact numbers.