Youth Art League
Our premier youth art program—Youth Art league—exists to provide young people with an opportunity to express themselves creatively and develop their artistic abilities. YAL lessons are held on the second Saturday* of each month (excl. December). Lessons are designed to be both informative and enjoyable for all of our students, who typically leave each session with a finished work of art. Past lessons have included acrylic pour, paper art, drawing, pastels, watercolor, sculpting with paper, and painting with 3-D glasses, just to name a few. All materials are provided by the Gateway Art Gallery.
YAL membership entitles each student to enter our annual Youth Art Show & Competition in the Fall, which includes a pizza party, trophies, and prize money. So hang onto those art pieces and be ready to enter when the call goes out for entries!
YAL details:
YAL annual membership is $15 per student
Open to youth between the ages of 10-18*
Lessons are held on the 2nd Saturday* of each month (excl. December) from 10:00 AM – 12:00 PM
Parent or guardian will need to fill out a registration form for the current year and sign a photography waiver (or opt out of photos)
How to register:
Sign up in person by coming to the next YAL class at least 15 minutes early to give our Instructors time to get your child registered/renewed.
You may also register online via Paypal or call the Gallery to register over the phone (you will need to sign forms at next check-in.)
Once registered, simply check-in each month on class day. Annual renewal occurs each January.

For more information, call (386)752-5229 or email info@artleagueofnorthflorida.com.
*Please note: we are in the process of expanding the YAL program to accommodate children ages 7+, so stay tuned for more info. We're looking to have the second group up and running by July of 2023.
Young DaVinci Summer Art Program
For three days each Summer, typically in July, volunteer artists at the Gateway Art Gallery host and teach a 2-hour-long art program for children ages 7 to 12. This program is intended to supplement our monthly youth art classes, while giving children something to look forward to and do during their Summer break. These classes offer more in-depth lessons and typically encompass one medium each day. Students explore new media in these lessons and come away with several pieces of art to take home by the end of the program. There is no cost for this program, but pre-registration is required and space is limited to 20 students per day.
To register for this fun program, download the registration form and return it to the Gallery before the closing date.
(form coming soon)
If you or your business would like to sponsor this event, please get in touch!

Jingle Jangle Holiday Art Camp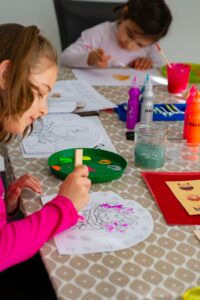 Join us on two Saturdays in December for a fun-filled and creative holiday experience! Our Jingle Jangle program is designed for children ages 7-10 who love to create and explore different art forms. Lessons take place in 3 sessions per day over the course of 3 days, giving children the opportunity to dive into various media including painting, drawing, paper crafts, and more. The program is limited to 10 children per session, ensuring personalized attention and support from our experienced instructors. Cost is just $10 per student, to cover supplies and snacks, and pre-registration is required.
If you or your business would like to sponsor this event, please get in touch!
2023 dates: TBA