Rory Penland is an artist, an impersonator, a stand-up comic, a singer, an illustrator, a playwright, an author, actor, a podcast host, a voice-over artist, a screenwriter, an animation sketch artist, a teacher of English as a second language, well…….an all-round entertainer. But can he set a Guinness world record in Lake City?
Rory Penland has been doing comedy for over 30 years now. In the 80's and 90's – he was the original "Human Cartoon", playing comedy clubs all over the globe. It all started when Penland became a finalist in the U.S. College Comedy competition. Since then, he has been on MTV's Spring Break, on Showtime's Comedy Laff-Off, and featured on America's Funniest People.
Because of his prolific accomplishments, the Gateway Art Gallery in Lake City has invited Penland to be their featured artist for the month of October. His oil canvases will be on display during October and through Nov. 15 – displaying slash and splatter art, along with portraits and geometric designs. A free public reception of his art with be Friday, October 7, from 5:00 – 7:00.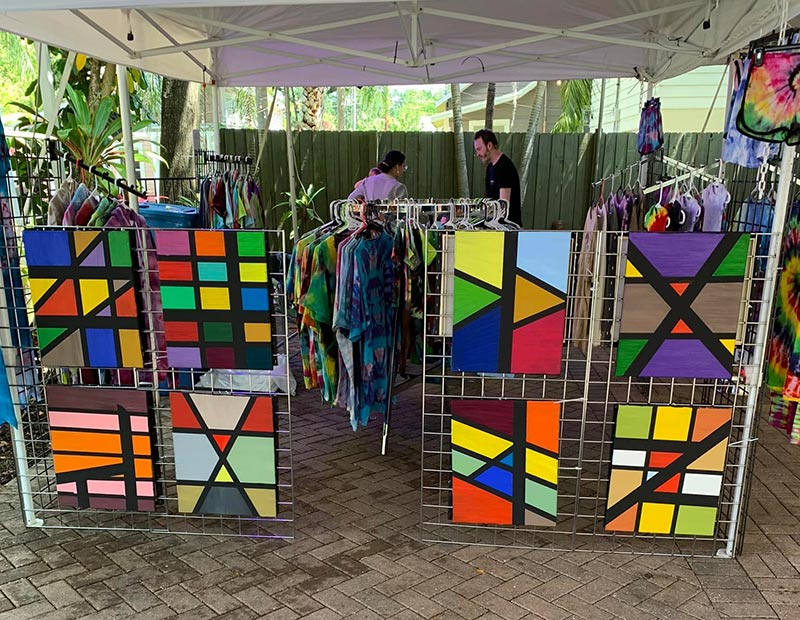 He will also perform two of his performance "sets" on the last weekend of the month, billed as "Happy Hour with Rory Penland Live." The first is "801 Voices in an Hour." It features Rory's attempt to set a Guinness Record as most impersonations in an hour. This will happen on Friday, Oct. 28, 5:00 – 7:00.
The second set will be Saturday, Oct. 29, 5:00 – 7:00. He will perform his "Elvis" show which he developed while living in China. Elvis is as popular in Asia as he is in the USA. Tickets for each event are $30 and include appetizers and beverages. Seating for each event is limited to just 50 persons, so tickets should be purchased early. Call 386.752.5229 to speak to Sheila Carr and reserve your seat at the Gateway Art Gallery.
Penland credits his interest in art to Candice Hines, art teacher at Columbia High School. He graduated from CHS and then attended Lake City Community College, where he was an actor in school productions. He also worked part-time in the television department at the college.
In 2004, Penland moved to China where he continued to act, sing, do voiceover work as well as stand-up comedy. Penland was a finalist in the South China Comedy Competition in Shenzhen in 2019, before returning home to please Western crowds once again.
In 2020, when the Corona Virus pandemic locked everything down, Penland picked up his oil paint brushes after 35 years and began painting again. Since that time he has painted over 120 oil paintings including portraits, retro-art, color studies and abstract art. He is still experimenting and does a live show every Wednesday night on Facebook called "Painting with Rory". That show is at 10:30 pm Eastern time and can be seen HERE
Penland has published two books in the sci-fi mystery genre. "The Vampire Irregulars" is a series of short stories and the "Bachelor's Guide to Post-Apocalyptic Success" is a novel. Both are available through Amazon and Penland will be signing books for patrons at the three events.
Penland hosts an online talk show called "It's Casual" every Tuesday evening at 7 pm, a horror film retrospective titled "General Howitzer's Big Monster Briefing Room" every Thursday at 6 pm and does comedy characters regularly on "No Icing with Sandie Dee" on Thursdays at 7 pm. All of these shows are on Cosmos Creative TV on Facebook and can be found archived on YouTube.
Most recently, he held an on-line auction to raise funds to buy land for an art school in Zambia. You'll find him online on Facebook under "The Man of a Thousand Voices" to preview his mini-impressions.
Sheila Carr, Curator of the Gateway Art Gallery, adds, "What a great experience. We are presenting a painter AND a performer for a month's worth of entertainment at the Gallery. The entry into entertainment is new for us, as we've slowly been adding live music at our receptions. We are excited to include visual and performing arts at the Gateway Art Gallery."