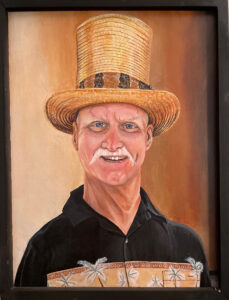 Robert Ellis is an artist with a unique background and perspective. Born in Jacksonville, FL in the aftermath of the hurricane of '49, Bob has always felt a connection to the natural world. As a child, he longed to live in the country and today, he is blessed to live in the jungles of the Suwannee valley.
Bob holds a Bachelor of Fine Art and a Master of Science, which has given him a well-rounded understanding of both the artistic and scientific aspects of the world around us. He believes that the role of the artist is to focus people's attention on the attributes of God as revealed in nature, just as American landscape artist Asher B. Durand did in the 19th century.
In addition to his artistic pursuits, Robert is an avid outdoorsman. He was raised on the water and his father gave him his first boat on his twelfth birthday. Today, he enjoys sailing his wooden dory on the open waters of the Gulf, paddling his canoe on the north FL rivers, and fishing on his friend's power boats. He is also an animal lover who has been blessed with a magnificent Spanish horse whom he rides just about every day.
Robert's faith is an important part of his life and he is privileged to be a musician on the worship team of Church On The Way. He believes that as the only creatures endowed with the ability to articulate praise, humans are privileged to praise God on behalf of all creation. This belief is reflected in his art, as he seeks to capture the beauty of the natural world and its connection to the divine. Robert is married to Lynn, whom he describes as the personification of the ideal wife described in Proverbs 31. She keeps him "more or less straight" and supports him in his artistic and spiritual endeavors. Together, they have built a life centered around their faith, their love of nature, and their passion for art.