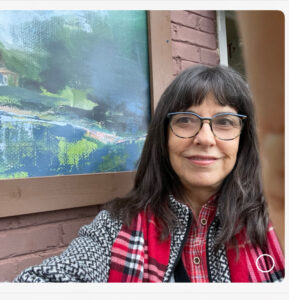 The Gateway Art Gallery is excited to announce our April 2023 Featured Artist, Joanna McNally! A selection of Joanna's expressionist work, depicting natural landscapes and florals in her signature painting style, will be on display at the Gallery throughout April and May. An opening reception will be held on Friday, April 7th at 5pm, and is free and open to the public.
Joanna's journey to becoming an artist has been a lifelong adventure. After receiving her Master's degree from Florida State University and raising her three children, she received a full talent scholarship to study at Florida School of the Arts, specializing in costuming. Although she enjoyed making tutus and tiaras as the Costume Director for the Florida Ballet, her passion for painting soon took over.
Joanna's art is inspired by the beautiful chaos of our natural world, capturing her impressionist landscapes, vibrant florals, and expressive still life. She finds inspiration as she travels frequently, camping and painting, and capturing her version of "Drive by America". Her work has won numerous awards, including First Place in the Southern Appalachian Artist's Guild show in 2021 and First Place in the citrus themed show at The Art Center in Jacksonville, Florida. Her work can be found in collector's homes across the country, as well as in a "Main Street America" event in Murphy, NC, and as a resident artist in The Art House in Blue Ridge, Georgia.
One of Joanna's pieces, "Just Breathe," caught the eye of Sheila Carr, our Curator, last year. Sheila said, "It was like no other piece I had seen before, and is the piece that has since inspired me to try out painting with oils—something that I had found intimidating but have since learned is not that scary." Sheila is excited to have Joanna's work on exhibit at the gallery and to introduce her to visitors. Joanna, in turn, is thrilled to be sharing her work at the Gateway Art Gallery. She said, "I am always happy to come home to the Southeast, where the greens are rich, the air is damp, and the people are friendly. We love the state parks near here, the old highways that meander through the 'Real Florida', and exploring the small towns."
We are excited to share her work with the community and hope that you will join us in celebrating this talented artist! And don't forget, Joanna is teaching a landscape painting workshop on April 10th. Register at the gallery by April 7th and come learn some of her trade secrets!
You can view Joanna's work at the gallery in person through May, and don't forget to follow her updates on Facebook.