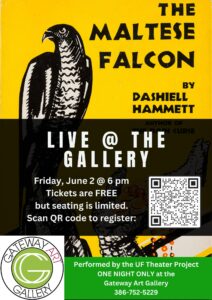 Get ready for an unforgettable evening of entertainment! We are thrilled to announce the return of UF's Driveway Theater Project acting troupe to the Gallery on Friday, June 2nd, for a captivating performance of "The Maltese Falcon." This must-see event promises intrigue, drama, and exceptional talent. We can hardly contain our excitement, and we hope you're just as thrilled as we are!
The evening begins at 6 pm with refreshments served, creating a delightful atmosphere for mingling and anticipation. The show itself will commence promptly at 7 pm, so be sure to arrive early to secure your seat. With a running time of just 50 minutes, you'll be captivated from start to finish by the UF Driveway Theater's talented cast and crew. Seating is Limited! To ensure an intimate and immersive experience, seating for this event is limited to just 50 individuals, so we encourage you to secure your tickets as soon as possible.
Get Your Tickets Today! Don't wait another minute! Secure your FREE tickets now by visiting this link and signing up with Zeffy. Upon registration, you'll receive an e-ticket that you can either present at the door or simply mention your name to the door staff upon arrival. This evening is not to be missed, and we can't wait to welcome you there!
We would like to take a moment to express our heartfelt gratitude for the continued support of our community. As a non-profit organization, we rely on the generosity of donors and supporters to bring these exceptional events to life. Every contribution helps us continue our mission of providing high-quality experiences to our community.